Buy 2 Get 1 FREE!!
💝If you want different styles, add them to the cart and they will be automatically discounted on the checkout page.💝
🧐Still worried about your child's present?
High-tech gyrating magic ball -🛸Let your Child Feel the Power of Magic🛸
This gesture-controlled flying rotor drone will provide hours of fun for the family! No batteries required. No remote control. Made of high quality impact resistant Copolymer PP.
Neon LED lights lining the outside and inside of the Spinner make it an eyecatching toy extremely fun to play with at dusk.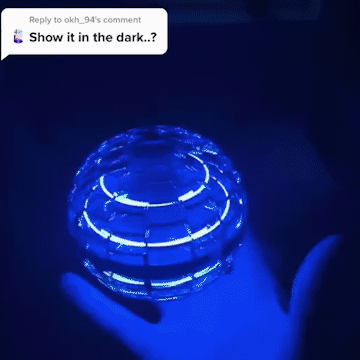 A PERFECT GIFT FOR KIDS, yourself or for the Drone lovers you know!
Take it with you anywhere (anytime). Small enough to fit in the palm of your hand - play with the Flying Spinner Drone whenever you feel the itch arise (whether that's in the kitchen, backyard, at the beach or the park!)
Let it go and watch it fly, float, glide, and climb before elegantly returning to your hand like a boomerang! Physics in action!

Great Entertainment for all Ages! Definitely a Must-have in your Toy Box!


Flying A Drone Has Never Been So Much Fun!
Kids & Parents all over the world are loving this Spinner Drone! Excellent toy for family bonding activities!
KEY FEATURES :
JUST SHAKE IT :

Push the power button, hold the Drone upright and then shake to start. It's that simple.
Throw your Spinner Drone into the air and watch it smoothly curve in the air to make a rendezvous with your original throwing hand. Yes, it does this.

PARTNERS GAMES : Kids can play together, get some exercise and build friendships~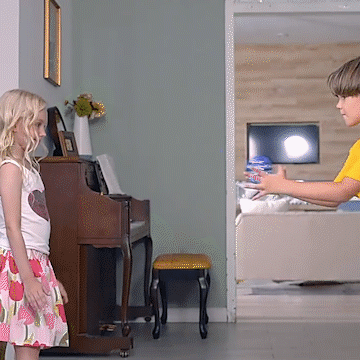 SAFETY FIRST : The Flying Spinner Drone features an aerodynamic enclosed orb design that gives it that smooth flight when you're throwing it. Your hands are always 100% safe when dealing with this floaty boi.
When using, please place the side with the battery on top and the side with the wind blade on the bottom. Find the right angle and practice more.
DURABLE : Durable, orb design protects the Drone from trauma caused by bumps, falls, drops, and other forms of blunt impact. Keep the good times spinning.
LONG BATTERY LIFE : Full charge takes only about 25 minutes.

Safe, Odourless and Harmless, Certified by Multiple Agencies.
SIZE: 95*95*95mm